Anyway he stars off the review by talking about the Crystarium in the game which is the leveling up system. He say's that it's basically holding down a button which it kinda is, he say's that leveling up is meant to be the best part of RPG's seeing where you can improve your character and what new skills you can learn but with this game you just hold A. I agree with him here as that's what it is, he compares it to a corridor as there is only one way forward.
He points out that this plan is stupid since it's the obvious place that they will look for them as they can guess Google his name but hope had to tell his father about what happened to his mother which he doesn't mention, did he even play the game. Guess what happens next, the bad guys surround the house. Snow goes out to talk to them and Spoony cuts to black making it seem that they killed him, that was funny but he didn't have to add credits in making it seem like the end of the game as that and the music playing kinda spoiled what he did.
A ride for a ride
Spoony then starts to complain about what exactly are you picking up and mixing into your weapons to make them better. He then starts to look at a bunch of different items that you collect making fun of the game, he say's that if he has a banana filled with hobo cum it can make a weapon better. The items in the game aren't far off, murky ooze, strange fluid, tear of frustration, I mean seriously what the hell are these. Can you pick up shit and somehow make your weapon better or will it just stain the blade. Spoony makes a Ring Terror's Realm joke in here saying that is dallad jelly, nice reference.
There are chocobo's but no chocobo racing, what gives.
Spoony one say's that there is a man walking about an amusement park hitting on young girls, he then say's that he's just saying. We all know those black guys, haven't you saw Okinawa. He's referring to Sazh by the way. Sazh pretends to shoot himself and vanille gets captured, they don't even see if he actually did which Spoony points out. He also starts on the robe as they bring those back, remember his childish rage in the previous videos, yea he does that again.
Meanwhile Sazh in Carbonite
Sazh also got his own Eidolon which turns into a car, just go with it. Spoony say's that it ain't two chicks who turn into a motorcycle whom you ride upon, japan and their weird sexual innuendo's. Why not have the main characters race against each other like wacky racers, that would be less stupid than the Eidolon's designs in the game. Spoony also talks about sazh's guns as in battle they turn into a shotgun and he just wonders how that even works.
Oh, political jokes my favorite
Nabaat is confused on what alert they are on and spoony cuts to a red dwarf clip, red dwarf sucks by the way. Tried to watch it and it just wasn't funny, nabatt then say's make it rain when they detect the intruders and Spoony cuts to himself saying make it rain with a dollar system around him while throwing money up in the air. That bit was really funny, let me guess that's all the money he got from ad revenues.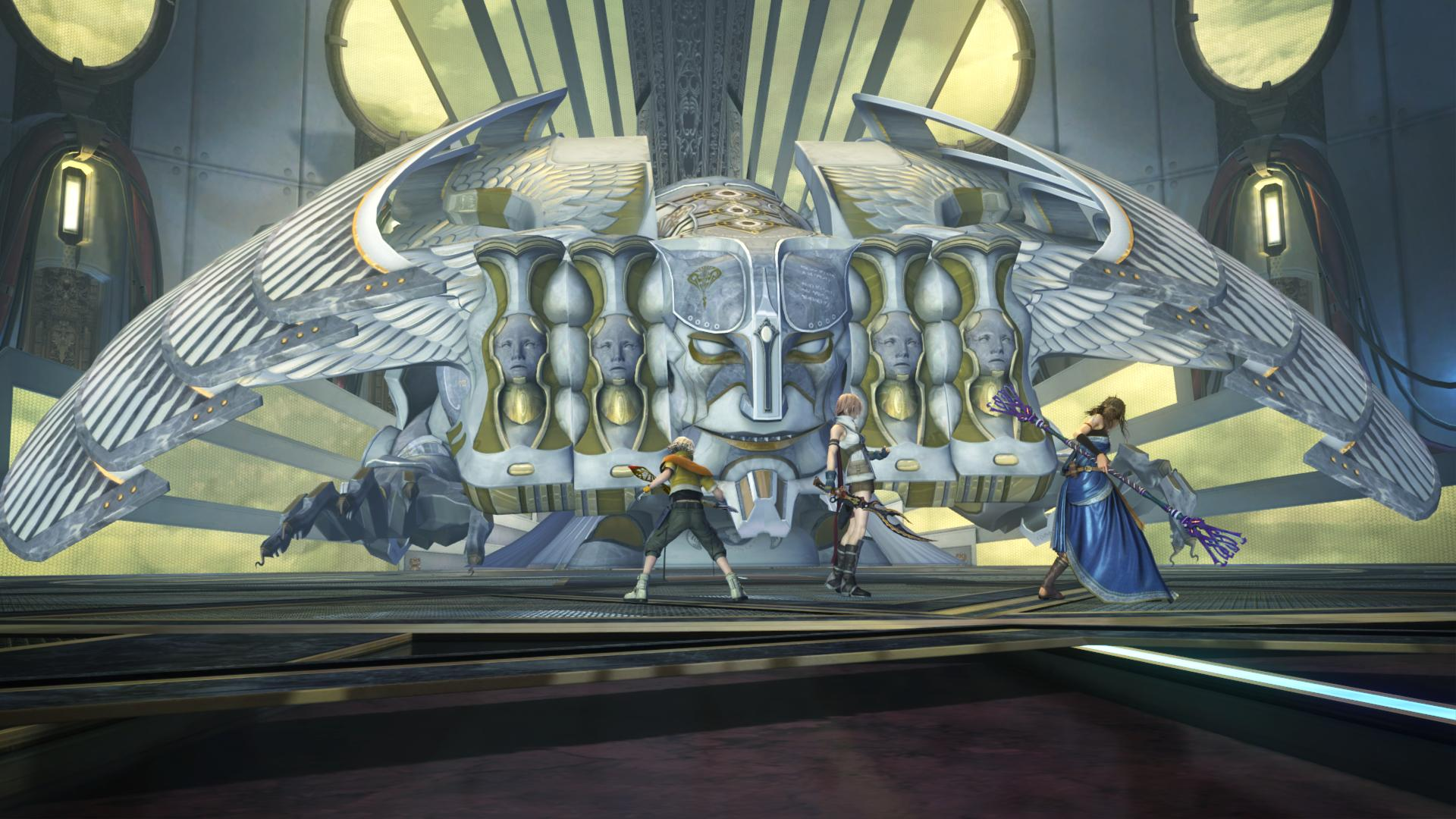 This picture alone could stop you playing the game, what the hell am I looking at
He then tells the games creators to basically go fuck themselves for making these games for the rest of the video before cutting to review scores of the game. From what he shows the scores were mostly high with 9/10's from various game critic websites. Before I continue let me point out that Sean Fausz again collected "additional gameplay footage" but im just guessing that he was the one who really played the game. I have pointed out several bits where it seemed that Spoony did not play the game or was he just being an idiot and not paying attention while playing.
That fat bastard again
This game may not be perfect but it still doesn't call for the rage that Spoony one has thrown at it, if you didn't like it then fair enough. I have played it myself and I did enjoy it, im not a fanboy or anything like that and the game does have some flaws or it could have improved in certain areas. I say the game deserves a 8.5/10 and that's a fair score, I really liked it. Spoony one acts like it's trash but it's really not, it's a good game so I say give it a try and even if you don't like it then at least finish playing the game and make up your mind when you reach the end.
Spoony one really attacked the game for being too linear but I didn't have a problem with that, they have a story to tell and it's just a different narrative that they took for the player to experience. I have mentioned this before and just because it's linear doesn't necessarily mean that it's a bad thing. Spoony one shows what the a producer of the game said and what he say's is right. There is no right or wrong in which way they went about doing the story as it's what they wanted, it may not be what you want as it's not about that.
Thanks for our patience in between fours months where there was no video..... asshole
Well this has been a journey, waiting for his video's to come out and myself giving feedback to the said video's. These posts did not take my minutes to create as I have spent hours on each giving you my thoughts and that's what it takes. Overall this was a funny entertaining review, it had it's faults but also it's moments. I really can't wait for when he reviews the sequel as I want to hear what he has to say, if you haven't checked out the video then please do so and thank you for reading.
Video Link
http://www.youtube.com/watch?v=RgWyMvfo_p8
http://spoonyexperiment.com/2013/05/16/final-fantasy-xiii-review-part-4/